As people remain socially distanced and spending on consumer technologies soars, B2C marketers have a big opportunity to get to know the passionate consumers looking to enhance their digital lifestyles. Consumer tech sales have increased 23% year-over-year, and as the demand for consumer tech rises, so does the demand for trusted tech advice. Using IDG's B2C audience portrait research, our team compiled a comprehensive look at our consumer audience to help tech marketers get to know these buyers and effectively engage them.
First, let's get a sense of who exactly IDG's B2C audience is. Comprised of over 12.5 million monthly unique visitors, these savvy tech enthusiasts rely on IDG's editorial brands, Macworld, PCWorld and Tech Hive, to stay in-the know about the technology that fuels their lifestyles. And with an average household income of $110K, these consumers have major buying power – and not just for themselves. Our research shows that enthusiasts' passion for tech extends, as over 2/3 have friends and family ask them for advice and recommendations about technology products and services.
Now that we know a bit about these buyers, and that the global market for consumer electronics is expected to reach $1.2 trillion by 2024, tech marketers are likely wondering what technologies consumers are considering purchasing. In the next 12 months, tech enthusiasts are looking to purchase a number of technologies that range from computers, computer accessories, smartphones, wearable tech and more. In short, there is ample opportunity to connect with consumers and influence purchase decisions.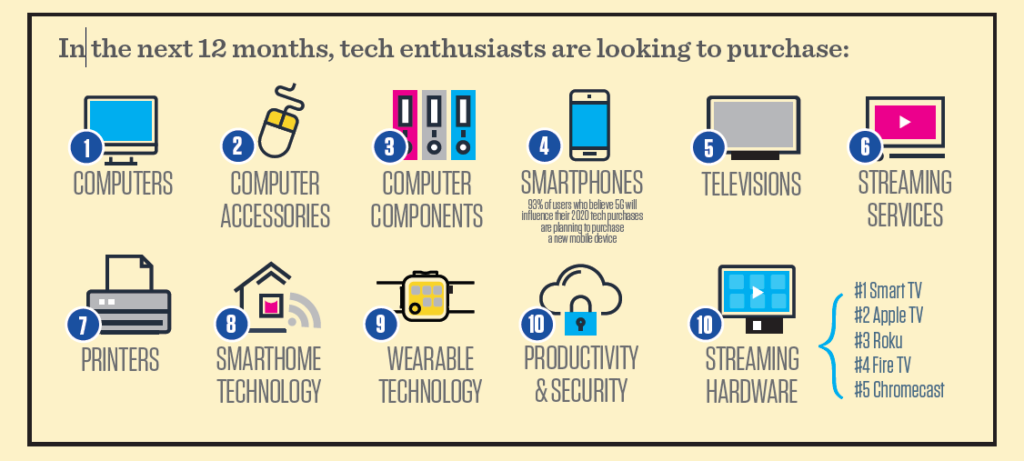 And just how can tech marketers reach these buyers? To start, it is important to understand a bit about their motivations and behavior! A common thread among IDG's consumer audience – 80% of which have a college degree – is a passion for tech education and proper research prior to making a purchase decision. 79% of these consumers report that they like to consume a high amount of reliable information before making a purchase decision. And 93% say that product reviews and content on IDG B2C sites help them to become educated buyers who are more prepared to purchase technologies available through the site. As a result of visiting IDG B2C sites, and the trusted tech advice they provide, 93% of consumers take action.
View our infographic to learn more about IDG's passionate B2C audience.
If you would like to learn more about how to reach these buyers, please contact us today.