Partner marketing
Driving revenue and impact
As your partner programs grow, they become more complex. We help craft, execute, and measure them, working hand-in-hand with your team to deliver targeted, customized activity that can scale.
See how our partner marketing programs can scale!
253k+
Partner marketing leads in 2022
20m+
Partner marketing impressions served in 2022
400+
Partner marketing programs in 2022
Global partner teams trust us
Your easy button to partner marketing
We offer a unique experience in helping to craft, execute, and measure partner programs. Through our dedicated practice, we work hand in hand with your team to deliver custom programs that can scale while still precisely targeting your audience.
Deep domain expertise
Experienced people
Dedicated practice
Global reach
Hit the easy button with Foundry
Explore how Foundry's Global Partner Solutions practice is helping technology partner marketers scale results across a variety of partner initiatives.
Partner marketing insights
Aimee Catalano and her team thrive on teamwork and working strategically with partners and customers to achieve fast-paced growth for Google Cloud year over year. Foundry's Global Chief Revenue Officer, Matt Yorke, sat down with Aimee to learn more about how her partner marketing insights and strategies can help other partner marketers achieve results.
We can work with you in three ways:
Global strategic alliances
Delivering fully integrated branding, thought leadership and demand generation at a global scale.
Unified multi-partner experiences
Take back control and deliver consistent results through a unified partner experience.
Scalable individual partner programs
Delivering scale across dozens, hundreds, and thousands of partners to help maximize partner pipeline and results.
Foundry delivers outcomes at scale
No matter the campaign or your marketing objectives, Foundry's dedicated team delivers. We take all the different possible pieces and pull them into a custom solution, tailored to you and your partner's needs, and powered by our first-party data.
Global scalability
Quality editorial brands
Trusted first-party data
Martech solutions
Brand-to-demand experience
Ease of execution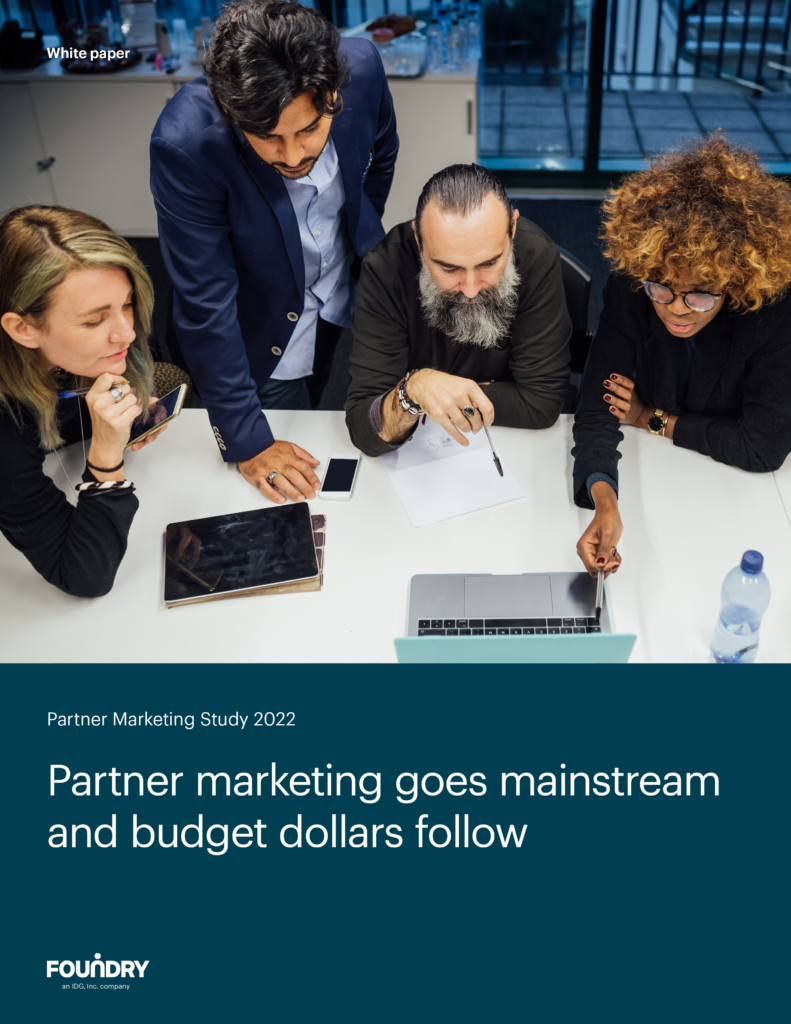 The value of partner marketing is on the rise
88% of marketers view partner marketing as a necessary marketing tactic. Foundry's 2022 Partner Marketing research helps define the value of partner marketing along with the benefits and challenges that marketers experience.
A total of 379 respondents, all involved in making partner marketing decisions for their tech organizations, shared their experiences to help us better understand partner marketing efforts within the technology industry, associated benefits and challenges, and budgetary trends to provide actionable advice for partner marketers.
"Foundry is, by far, my favorite media partner.  I bring Foundry in early to help develop our co-marketing strategy, then lean on them to drive and program manage the activities, at scale with multiple partners around the globe, delivering quality leads and results which further encourages my partners to continue to work with them beyond our co-marketing efforts."
— Billie Goldman, Partner Marketing Unicorn, Intel
Supporting products & services
Intent
Foundry intent supports Foundry advertising with precise contact-level targeting that places your messaging in front of buyers exactly when and where it will have the greatest impact.
Lead generation
Give lead generation campaigns a lift with dynamic advertising that builds relevant awareness and yields better performance for all your demand efforts.
ABM
Surround the buying committee and connect the dots between ad impact, page views, and pipeline.
Frequently asked questions