Our solutions
Engage every tech buying audience, along every step of the buyer journey
Powered by intent data and decades of trust, Foundry solutions seamlessly connect marketers' awareness efforts to demand strategies on the destinations tech buyers turn to guide their decisions. 
Hit your marketing goals with a connected brand-to-demand strategy
Your buyers are faced with solving more complex challenges today than ever before, yet struggle to find helpful resources along the buyer journey in an increasingly transactional marketing landscape.
To regain buyer trust, technology marketers today must prioritize strategies that address the complete needs of a diverse buying team, and educate, engage, and guide buyers in the ways and on the channels they prefer. Foundry's latest Customer Engagement Study shares valuable insights into how tech marketers can build stronger business-to-buyer relationships built on trust.
Connected brand to demand solutions built to drive reliable, trust-backed pipeline
In the competitive tech marketing landscape, brand trust and loyalty is a B2B marketer's greatest asset. Foundry marketing solutions leverage the longstanding credibility of our tech editorial brands—your buyers' go-to destinations for decades of tech decision making—to reach, compel, and nurture in-market ITDMs throughout their unique buyer journey.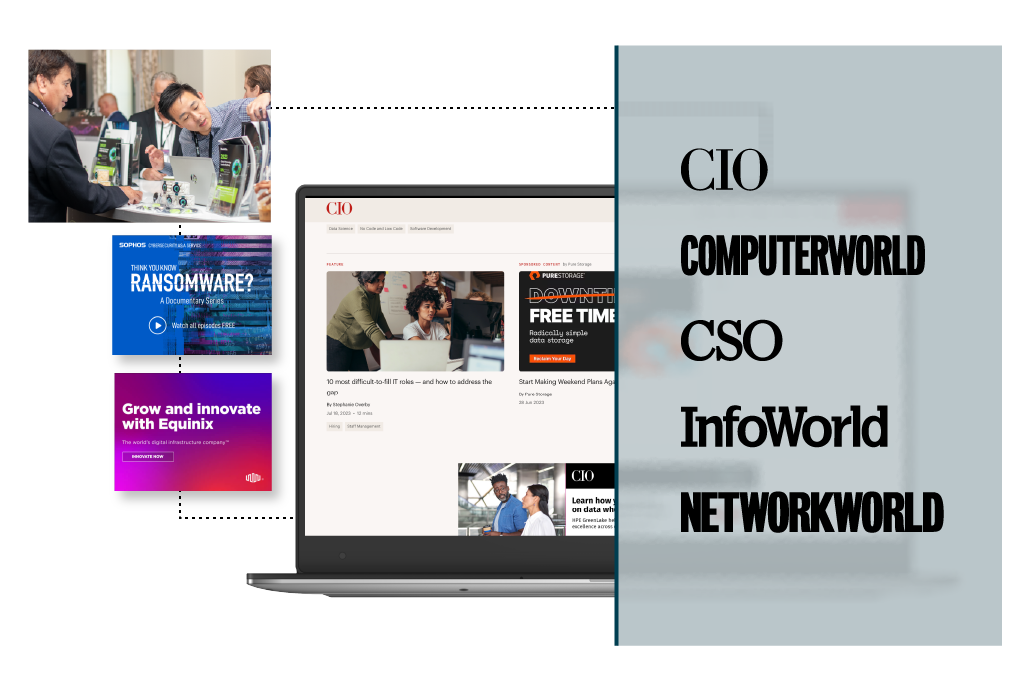 Backed by trust
When you work with Foundry, you leverage the credibility of the community—our sites, events, and brands—that technology buyers have trusted to guide their purchase decisions for decades. We help marketers reach the full buying team as they progress through their buyer journey with us, and provide us with valuable buyer insights.
Powered by intent
Intent data offers marketers tremendous value—if they know how to activate it. With all of Foundry's digital marketing solutions layered with intent data signals from our global audience of technology decision makers, we ensure marketers are reaching in-market buyers with the right messaging from the start.
Optimized by tech
Martech is a critical component to delivering the right messaging at the right time. Foundry's proprietary ABM software supports and connects marketers' digital programs across channels to help marketers activate intent more swiftly, personalize messaging more effectively, and drive pipeline more reliably.
Partner marketing solutions
As your partner programs grow, they become more complex. We help craft, execute, and measure them, working hand-in-hand with your team to deliver targeted, customized activity that can scale.
Consumer marketing solutions
Today's B2C tech consumers are savvier than ever when it comes to researching their personal purchases, and they want the right options presented to them fast. We help consumer marketers get ahead of the competition on the sites B2C shoppers trust most.
What our customers say
"Working with Foundry helped us meet growth demands. We were asked to increase MQLs by 30% in a pandemic year, and we did it. I'm not sure we would have been able to do that without Foundry. It's rewarding because we've been able to help a lot of other businesses operate successfully during difficult times. Foundry helped facilitate our growth so that we could help others grow."
Amy Horgan, Director of Digital Capabilities, Dynatrace
Ready to build stronger pipeline with a connected brand-to-demand strategy?
Frequently asked questions
Why is a brand to demand approach successful?

Brand to demand is a long-term growth strategy that connects all the touchpoints along the audience's journey to strengthen a brand, improve trust, and deliver leads. When marketers connect brand efforts to demand objectives, they increase the impact of marketing spend by generating leads that are more engaged, more educated, and have greater trust in their brand.

Why choose Foundry's brand to demand solutions?

Co-branded with Foundry premium editorial for third-party credibility, this full-funnel web experience brings a target audience from brand awareness through to lead generation. Multi-channel promotions leverage Foundry's first-party data and contextual relevance to drive reader engagement with custom thought leadership content throughout their buying journey. Developed with an expert strategy team, Foundry offers the complete brand to demand package.

What audiences can I reach by working with Foundry?

Foundry's premium editorial brands engage the world's most influential technology executives. As the go-to destinations for every ITDM and stakeholder on the B2B buying team, only Foundry offers marketers the ability to effectively align their efforts with today's complex buying cycle. With 150M+ global audience members and 28M+ engagements across our editorial sites monthly, marketers who partner with Foundry achieve brand to demand results at scale.