It seems like since the launch of ChatGPT, everyone is talking about Generative AI (Gen AI). With its extreme ease of use and ability to save massive amounts of time, IT and business decision-makers alike are keen to better understand how to incorporate Gen AI into their organization and product offerings. Well, to best understand Gen AI, it's equally important to fully understand overall AI activity. That's where Foundry's newly launched AI Priorities Study comes in.
In its first year, this study was conducted to gain a better understanding of how organizations are leveraging AI and Generative AI, specifically looking at investment and implementation plans, use cases, business benefits and challenges. Based on 965 global IT decision-makers, the research finds that AI and Gen AI tools are being researched and piloted extensively by organizations, but there are various concerns that IT leaders need to prepare for when implementing these tools, such as data privacy and security.
Key takeaways:
While not new technology, versions such as Generative AI have brought AI tools into everyday life, sparking new and vast interest. 89% of IT decision-makers are either researching or using AI technology.
---
Those that have technology budgets dedicated to AI show no signs of slowing down. Close to two-thirds (61%) expect their spending towards AI projects to increase in 2024.
---
The current use case for AI applications are data analysis, employee productivity, and process automation. However, only 34% of IT decision-makers say that their organization currently has the right data and technology in place to enable effective AI.
---
Close to half of organizations are actively researching Generative AI initiatives, and 25% are already piloting these tools. ITDMs expect a positive benefit from Gen AI as 55% agree that Gen AI infused products create better business outcomes and another 55% agree that Gen AI is allowing for employees to refocus on high value-adding tasks.
---
Security and privacy concerns are the most pressing ethical implications when implementing Gen AI. Work needs to be done here as only 36% agree that their organization has a policy in place to monitor the use of Gen AI.
---
IT organizations are currently using Gen AI for content creation, data analytics, and software development. Understand what their plans are for the next 6-12 months.
View the sample slides below and download the 2023 AI Priorities executive summary for additional insight on the AI landscape.
---
Additional AI related resources
---
AI trends infographic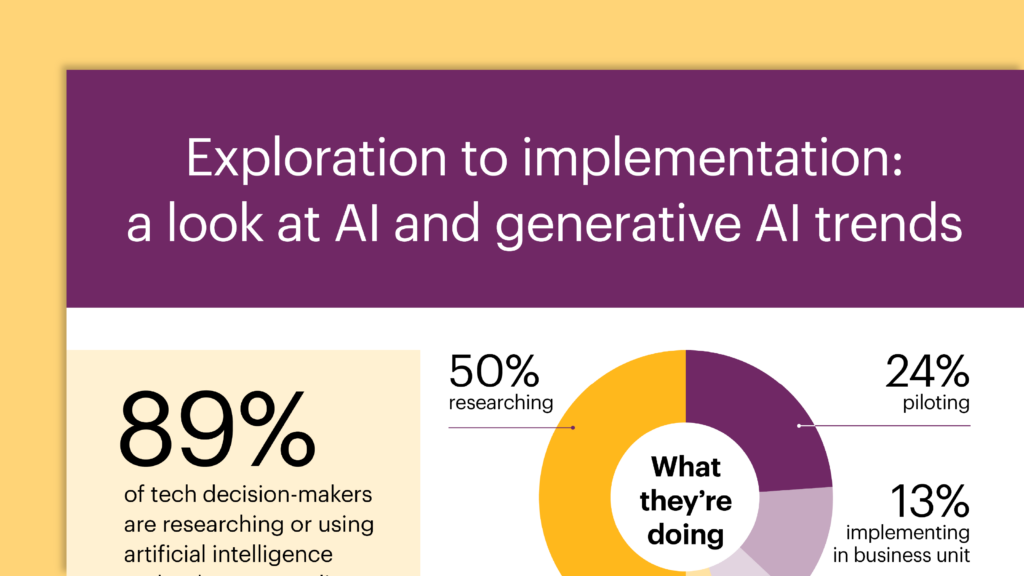 View infographic to understand how tech leaders are going from exploration to implementation with AI and Gen AI, and the factors impacting these plans.
---
About the research
Foundry's 2023 AI Priorities Study is the first year of this research and was conducted to gain a better understanding of how organizations are leveraging AI and generative AI, specifically looking at their investment and implementation levels, use cases, measures of success and challenges. The study was fielded throughout August 2023 and is based on the responses of 965 global IT decision-makers who have AI and generative AI plans.