Targeting the right tech buyers with intent marketing
Today's typical tech buyer spends the majority of their buying journey independently researching potential solutions to their pain points before engaging with a salesperson. It is estimated that within certain tech buyer segments, around 84% of this research is done online through website visits, guides, white papers, eBooks, virtual events, etc. All of these actions act as indicators or signals that a particular company is in the market to purchase a certain type of solution.
Instead of traditional marketing that pushes generalized products to a broad audience, intent marketing leverages intent signals to take a much more tactical and calculated approach by focusing only on an audience that has already shown interest or intent to adopt a solution in your product or service category. By listening to what buyers are interested in and building your marketing campaigns to fit these needs, intent marketing gives you the ability to deploy more effective campaigns that drive more leads and conversions.
The intersection of media and martech
---
Neon
What sets Neon apart:
IT-specific audience – Foundry's content is purpose-built for the IT decision-maker. Users are seeking out our brands as a trusted voice to help them in their IT buying journey – we are proud to be that voice. Our global database of 44 Million opted-in IT professionals visit our brands to research and learn about specific technologies and IT strategies. Our first-party data, delivered at a global scale, gives us the precision you need to quickly identify and engage the right people at the right moment and target those people dynamically.
Human verified data – While digital engagement around a specific topic is a good indicator of buying intent, it doesn't always show the entire picture. Our exclusive intent scoring incorporates online activity with in-person events like attending an industry event, speaking with a sponsor, asking questions in a chat, and more to provide a complete view of your prospect's real buying intent.
Data built on trust – Foundry's global audience has offered their permission to engage with our content, our partners, and your brand. This creates a trust-built relationship with our audience, which gives us unprecedented access to first-party intent signals that can be used by tech marketers to power their account-based marketing (ABM) strategies and convert more buyers.
Robust dataset – Our weekly reporting provides all the account-level data you need to power your intent marketing strategy, including account name, industry, company size, company location, topic engagement, account intent score, and trending date.
Unrivaled intent-based advertising – Our unique first-party intent data is collected across our global brands, including CIO, Computerworld, CSO, InfoWorld, and Network World. These trusted informational resources fuel Neon's intent scores and enable you to target trending accounts with the right message at the right time.
20%
Increase in form fills
2x
Higher email response rate
3x
Higher traffic from high-intent accounts
---
KickFire
Foundry's first-party intent platform, KickFire, shows you the exact companies visiting your website and their real-time buying intent. On average, only 2% of website visitors will convert into an inbound lead. KickFire lets you tap into the other 98% of your website traffic to reach in-market buyers earlier in their decision process and turn them into actionable sales opportunities. This cookieless, privacy-compliant intent data integrates into every aspect of your MarTech stack to turn it into a B2B sales and marketing powerhouse so you can identify, inform and influence in-market buyers.
Our proprietary IP address intelligence™ can power your B2B account-based marketing, content personalization, account-level ad targeting, and much more.
What makes KickFire data special:
Data integrity
By putting an emphasis on the quality of our data, we are able to provide our customers with the most accurate, up-to-date, and most importantly, useful IP intelligence and firmographic data to power our customers' sales and marketing strategies.
Normalization
Our team of Data Integrity Specialists follows strict ISO (International Standards Organization) standards to make sure that every company name, address, SIC/NAICS code, phone number, etc. is usable right out of the box. This allows you to spend less time cleaning, organizing, and normalizing your data and more time selling to the right buyers.
AI + human intelligence
While we love our machine learning algorithms, there are just some elements of the IP analysis processes that require a human touch. Machine learning algorithms require vast amounts of data to train themselves on what to look for. The training process is overseen by a team of data experts whose job is to ensure that the data our algorithms are trained on is good and will result in an algorithm actually learning. This helps the algorithm improve while further ensuring that we only pass along accurate data to our customers.
Real-time analysis
The world never stops changing, so we never stop listening. In our research, roughly 7-10% of IP addresses change ownership every month, as companies are bought, sold, acquired, dissolved, and change names every day. All of these events have an impact on the data we provide to our customers. Because we report on more than 26 different company data points, we are constantly listening to and reporting on what's happening in the corporate world 24/7.
Confidence scoring
KickFire has a complex system that produces a score of how confident we are that a certain IP address is in use by a specific company. IP associations that do not reach this score are not passed along to our customers. This ensures that when we report an IP address belongs to a company, our customers can trust it.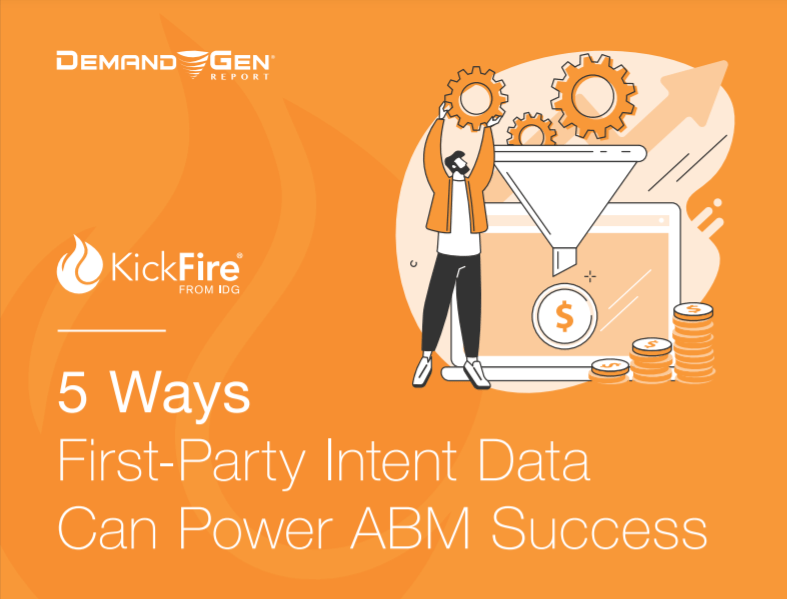 Click here to download KickFire's eBook on 5 Ways First-Party Intent Data Can Power ABM Success!
What are intent marketing data sources?
Buyer intent marketing data can come from a variety of sources. Here are a few of the main outlets that are used to gather intent signals:
Website Actions
Off-site web activity (like branded phone conversations)
Point-of-sale or CRM data
Social media engagement
Content consumption
Virtual event engagement
How is intent marketing redefining the funnel?
Intent marketing offers tremendous advantages to B2B marketers by giving them the ability to:
Identify new in-market buyers → Seeing exactly which companies are showing interest can be incredibly useful in building target account lists for sales and marketing campaigns. You may even consider building customized campaigns based on which specific products/services your audience is showing intent in.
Become part of the buying decision → As a marketer, intent-based marketing makes your life much easier as you do not need to spend time and resources building awareness about your technology. The audience is already aware of it and somewhere in the process of moving forward with their purchase decision.
Personalize outreach to drive more sales → Leveraging intent data allows you to build custom intent-based marketing campaigns that can speak directly to the benefits of specific products that are more likely to resonate with your audience.
Improve your marketing ROI → By focusing on leads that have already shown interest in your product or service; intent marketing allows you to wade through the clutter of low-quality leads and spend your marketing budget reaching the right audience.
How to build an intent-based marketing strategy?
There are 3 steps to building an intent-based marketing strategy
Step 1: Find your intent data source
As we discussed above, intent data can be found in many places. However, looking at just one of these data points separately wouldn't tell us much. Incorporating multiple sources of intent data into your strategy will provide a more holistic view of a tech buyer's true intent to purchase and give your sales and marketing teams valuable insights into how and when you should reach out to them. To see how a platform can incorporate multiple forms of intent data into one robust package, check out our Neon platform!
Step 2: Build out your audience requirements
This is a very important step in the intent marketing process – defining your audience. Segmenting your B2B audience based on company size, industry, etc., will allow you to focus your efforts on in-market companies that are more likely to convert. Additionally, while you may already have an idea of who your target audience is from your other ABM campaigns, now you must dive deeper into the content topics your audience is searching for that would indicate an elevated interest in purchasing.
Step 3: Use your data
This is the fun part – using your data! Once you have your intent solution up and running, it's time to put your data to work. With Neon, you'll receive a weekly report showing key data points like:
Account name
Industry
Company size
Intent location
Topic engagement
Account intent score
Trending date
This report will allow you to send perfectly-timed customized sales and marketing outreach, serve retargeting ads to high-value interested accounts, create unique website experiences that drive higher conversions, and so much more!
If you're ready to take your intent marketing to the next level and unlock your team's true potential, you can book a meeting with one of our intent marketing experts today!
Foundry leads policy
Pricing represents worldwide leads with no filters/criteria. A maximum of 10 competitors will be accepted to be filtered out of a campaign. We remove bogus and duplicate leads. All qualified leads will have what appears to be a correctly formatted valid email or phone number supplied by our users. Lead criteria is available for an additional investment.