The Need for Technology Advancements Progresses Despite Pandemic Disruptions
10/19/2020
Based on the 2020 IDG Role & Influence of the Technology Decision-Maker research, this white paper dives into the expanded role of the IT decision-maker (ITDM) as technology's responsibility in business increases and organizations upshift technology investments. This year's study found that to maintain this responsibility, content consumption among ITMDs is on the rise, as 41% expect the amount of information they download throughout the tech purchase process to increase over the next 6-12 months.
Download the executive summary to get deeper insight into:
 The types of tech purchases organizations are planning to make and their likelihood to seek a new vendor.
How the pandemic has caused IT purchase disruptions, whether that be centralizing purchase decisions or extending the process.
Who is involved in each stage of the tech purchase process and the number of IT and LOB influencers is expected to shift.
The information sources that ITDMs rely upon throughout the buying process, and which sources are increasing in importance due to the pandemic.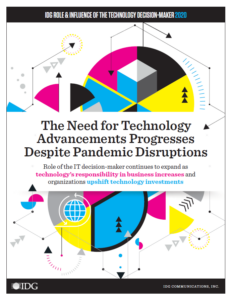 Share: